Creche KidsCare Differdange Gravity - Ernest Dolibois
Address
2, Rue John Ernest Dolibois
L-4573 Differdange
Open Monday through Friday :
7:00-19:00
The + of the nursery
Simultaneous interpreting
Location
Creche KidsCare by Babilou Family in Differdange
Our nursery located at 2, Rue John Ernest Dolibois, welcomes children from 2 months to 4 years old. It is open all year round, Monday to Friday, 7 a.m. to 19 p.m.
A quality nursery located in Differdange
This brand new structure located in the heart of the residential district of Differdange welcomes little explorers eager for discovery up to the age of 4 years. With its garden, everything has been thought out to enhance their awareness, transmit to them the taste for living together and make them the future eco-citizens of tomorrow.
We have thought of each of the indoor and outdoor spaces in order to awaken the senses of toddlers and encourage them to discover. Life in the great outdoors is privileged. We will also offer regular excursions in line with our values. The educational teams will put all their strength and energy to offer children, from an early age, a sustainable education, respectful of people and their environment.
Varied quality educational activities
Our educational team supports your children in their development. It offers them many educational activities and a variety of games in the best conditions.
Outings are regularly planned such as walks in playgrounds around the nursery, mornings at the swimming pool or at the market, excursions or even in educational farms. Our team accompanies children in their development until they leave for school, and listens to families on a daily basis, with whom it works in close collaboration.
Graduate teams provide multilingual education in French, Luxembourgish and English.
The unique + of the nursery KidsCare Differdange by Babilou Family

Meals are organic prepared by a dietician with fresh and seasonal products;
Nappies, care products and milk are provided for each child;
A minibus is available from the nursery to take the children to different places of discovery;
Finally, parents have access to the mobile application Kidizz by Babilou Family to follow the day of their children.
More information ? 2899 2899 400

Nearby nurseries

8, Rue Metzkimmert
4628 Differdange
Open Monday through Friday :
6:00-20:00

4, Rue Metzkimmert
4628 Differdange
Open Monday through Friday :
6:00-20:00
In search of new profiles, we are looking for dynamic and enthusiastic employees to work in our nurserys and day centres.
Apply
News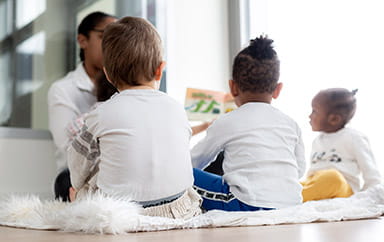 On June 17, from 9 a.m. to 00 p.m., don't miss our Job Dating at the nursery KidsCare Differdange Gravity - Ernest Dolibois (2, Rue John Ernest Dolibois L-4573 Differdange). Join us for a
Read the press release